Geneva Motor Show 2012 Published on March 9th, 2012 | by Seán Ward
0
Small Merc Rival for BMW 1 Series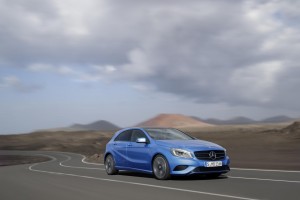 Mercedes has unveiled a small car rival to the well established BMW 1 Series at Geneva: the new A Class.
Two petrol and two diesel engines are available, although different power outputs can be selected from each.
The strongest diesel is the 2.2 litre with 170 bhp and 350 Nm of torque, and the best petrol is the 2.5 litre with 211 bhp and 200 Nm of torque.
Perhaps the strongest selling point for the car is fuel economy; not only will some engines manage more than 50 mpg, but most should be able to fall below the 99 g of CO2 per kilometre, meaning no road tax.
Customers can opt for a new six-speed manual or a seven-speed double clutch, and can then chose whether they want rear or four-wheel drive.
Quality is much improved over the old A class, as is ride quality and general feel, things which are hardly lacking in the rival 1 Series.
"A is for Attack," said Dr Dieter Zetsche, head of Mercedes Cars. "The A-Class is a clear statement of the new dynamism of the Mercedes-Benz brand.
"The A-Class is completely new, down to the last detail. In automotive development, it's not often you get the chance to start with a clean sheet of paper. Our engineers and designers have made the very most of that opportunity."
Dr Thomas Weber, Member of the Board of Management of Daimler, added to Zetsche by saying "a new Mercedes must take the lead, in technical terms, in every class of vehicle. Whether we're talking about efficiency, driving dynamics or safety: the new A-Class raises the benchmark significantly.
"Pure driving enjoyment, plus exemplary efficiency – from a technical perspective that is the quintessence of the A-Class."
[portfolio_slideshow]