Motor Shows Published on January 9th, 2012 | by Seán Ward
0
Smart For-Us Unveiled at Detroit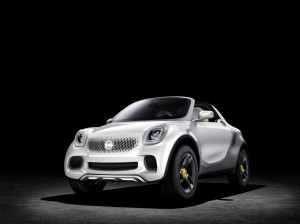 Smart 'is turning the automotive upside down once again', by showing the automotive press what [don't hold your breath] an urban pick-up should look like.
Quite how the world has been turned upside down before with an urban pick-up is beyond us, but the 'For-Us' supposedly does just that.
Hailed as the perfect car for the young and young-at-heart, the For-Us, is a small car measuring in at 3547 mm in length, 1506 in width and 1701 in height.
Unlike Smarts of the past, especially Brabus versions, it has a 55 kW electric motor, making it one of the many zero-emission cars to be revealed at Frankfurt.
Smart CEO Dr. Annette Winkler says: "We at smart love pickups – if they are small on the outside, large on the inside, very safe and extremely comfortable. With the Smart For-Us a petrol station is no longer required!"
Unfortunately, the plug probably is – judging by the efforts of electric car manufacturers at the moment, all of which have much more expertise in the electric car industry than Smart, the charging times are likely to be fairly great, and the driving times relatively low.
The For-Us can seat two, with extra space provided for two Smart eBikes, which are to be used when the driver needs to get out and visit 'isolated park trails'.
The design is 'sassy and robust', according to Smart, and has as few overhangs as possible, so it should not only be easy to park, but have plenty of interior space.
The magneto-electric motor has 130 Nm of torque, and can 'overtake vehicles with the greatest of ease', and has a top speed of over 70 mph. Just.
[portfolio_slideshow]