Concepts Published on September 17th, 2012 | by James Allen
0
Smart ForStars concept previews firm's future models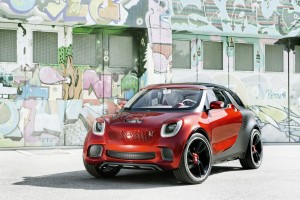 Smart has been a bit quiet with regards to new models for the last few years, so it's a pleasant surprise that the German car company will be showing a new concept that'll preview the firm's future models.
Called the 'ForStars', the small two-seater's main role is to showcase the design language that'll feature prominently in Smart's future cars.
Though it'll undoubtedly be toned down a tad if it's to reach production as the next ForTwo, the little design details that Smart reckons make the ForStars unique include the front and rear lights that "seem to push out like arrows", the "eyebrows" on the headlamps and the glass coupe roof.
Of course, being a concept car, there are also quite a few aesthetic quirks that truly befit its status as a design showcase, with the most obvious example being the projector that's mounted inside the bonnet.
Under the curvaceous bodywork lies the chassis and powertrain from the ForTwo Brabus EV, though have been re-engineered to cope with the concept's specific requirements. When compared with the donor car, the ForStars is 23 inches longer, and the front and rear tracks are 7.6 and 3.5 inches respectively.
The electric powertrain, though, has remained as it was in the Brabus, so the lithium-ion battery powered motor generates the equivalent of 80hp, which Smart claims is enough for a top speed in excess of 80mph.
It remains to be seen just how the ForStars will influence future Smart cars, but if the design study is met with praise at the Paris Motor Show, it's likely that elements of the show car will find their way into the next ForTwo.
[portfolio_slideshow]