Stories Published on February 9th, 2012 | by Seán Ward
0
Snow Drifting a Formula Car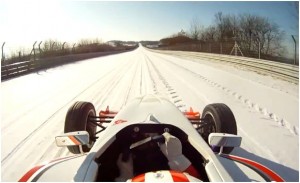 A video to watch before the weekend is this one of a complete nutter taking a Formula race car out on the snow at the Nürburgring.
The aforementioned nutter is Andy Gülden, chief instructor at the Nürburgring Academy, and the temperature is -16 degrees Celsius.
Skip to about 5:56 to see Andy tackle the last few corners and the famous Dotlinge Hohe (or 'Something Straight' in English), but in all honesty, every bit of the video is pretty spectacular.