Stories Published on February 18th, 2012 | by Seán Ward
0
Special Edition MX-5 from £18k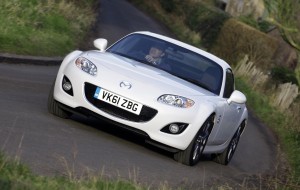 Mazda has unveiled a new limited edition MX-5, known as the Venture Edition, which is on sale now from £18,995.
It's based on the MX-5 SE and Sport Tech models, and comes with either a 1.8 litre petrol or 2.0 litre petrol.
The 1.8 is only available with the soft top model, and has a five-speed manual gearbox, 126 bhp, a 0-60 mph time of 9.9 seconds, and a top speed of 121 mph.
In the coupé roadster, however, the 2.0 litre engine has 160 bhp, is connected to a six-speed manual rather than a five, has a 0-60 mph time of only 7.9 seconds, and an impressive top speed of 136 mph, quite a bit quicker than the 1.8, although it costs more at £22,285.
Dynamic Stability Control (DSC) and a Traction Control System (TCS) are fitted on both Soft models, but the 2.0 litre model comes with a limited slip-diff.
Both cars can come with a normal MX-5 colour 'Metropolitan Grey Mica', or with two colours exclusive to the Venture models: Radiant Ebony Mica and Crystal White Pearlescent.
Whichever model you buy, 17-inch alloy wheels, front fog lights, a chrome front grille, 'Venture Edition' badging, Havana Brown heated leather seats, a leather steering wheel and hand brake with contrasting grey stitching, and cruise control. Sat-nav is also included as standard for the first time on an MX-5.
Only 250 examples of the Venture Edition Soft-top and 550 examples of the Venture Edition Roadster Coupe will be available in the UK.
[portfolio_slideshow]