Stories Published on January 27th, 2012 | by Seán Ward
0
Sporty Driving Experience from New Aveo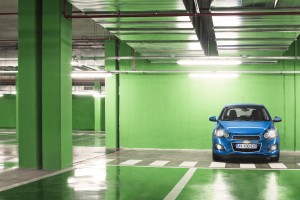 2012's Chevrolet Aveo boasts 'sleek looks, sporty handling, incredible safety features, fuel economy and versatility', according to Chevrolet.
The five door, second generation Aveo will cost anything between £9,995 for the entry-level 'LS' model, with a 1.2 litre engine producing 87 bhp and a five-speed manual, to the most expensive 'LTZ', with a 1.3 litre diesel producing 95 bhp and a six-speed manual, costing £13,615.
New features include a revised dampening system which is 40% stiffer than before and a stronger body, all of which goes towards making it a more rewarding car to drive, according to Chevrolet.
All the power contained under the bonnet with this new sportiness is delivered to the front wheels under the management of a new Electronic Stability Program, and Electronic Steering System which is supposed to give the driver much more road feedback than on the first generation car.
On the inside, 'Ice-blue ambient backlighting adds a stylish feel' combined with a 'sporty' speedometer and LCD readout, whereas the outside looks similar but cleaner, especially with the concealed rear door handles.
And to improve the air of quality, all panel gaps, Chevrolet proudly proclaims, are no larger than 3.5 mm, and 15 inch alloy wheels are included as standard on all cars above the middle of the range LT models.
Available now, all Aveos come with a five year warranty.
[portfolio_slideshow]