Stories Published on March 10th, 2011 | by Seán Ward
0
Stunning Four Door Tesla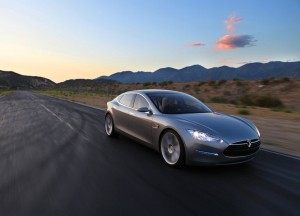 Tesla has unveiled its second model: the Tesla Model S.
With deliveries starting in North America at the start of 2012, and in Europe in 2013, the four-door all-electric sports car will cost as little as £50,000.
5000 vehicles will be built in 2012, with production increasing fourfold by 2013.
Putting aside the numbers, this is undoubtedly one of the best looking cars set to be released over the next few years, with excellent performance to match the looks. The Model S isn't just all mouth, no trousers. Range will be somewhere between 160 and 300 miles, depending on the model, and 0-60 is expected to be done in less than six seconds.
[portfolio_slideshow]