Stories Published on November 7th, 2011 | by Seán Ward
0
Subaru BRZ Concept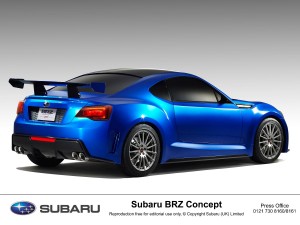 Subaru has unveiled its BRZ concept, which will be unveiled at Los Angeles Auto show in November.
The production BRZ will then make its full debut at the Tokyo Motor Show in December.
It will feature a new 2 litre Subaru Boxer engine, and oddly for fast Subarus, this will be rear-wheel drive only, setting itself apart from Imprezas.
Not much else is known about the car, and so far, this is the only image to have been released.
The BRZ, short for Boxer, engine, Rear-drive, Zenith, will come to the UK next spring, but be limited to around 500 cars per year.