The Supercar Event 2013 Published on June 13th, 2013 | by Seán Ward
0
Supercar Event 2013: Confirmed Cars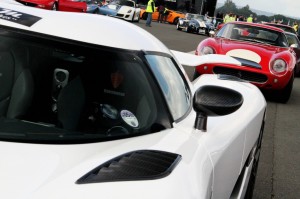 The Supercar Event, formerly 'Dad's Day Out', is now just 48 hours away, so we thought we'd find out what cars will be putting in an appearance on track, and that you might get to have a ride in.

Last year, the biggest surprise came from a Ferrari 275 GTS being driven very hard, as well as a new Rolls Royce Phantom, but 2013 should be even more surprising. As well as the usual host of Ferrari 360 Challenge Stradales, F430s and 458s, a 458 Spider will be giving rides alongside a 599 GTO, 550 Maranello, Enzo, F50 and F40.
Porsche should be well represented, too, as already confirmed are several GT3s and a few 997 Turbos.
No car event would be complete without a selection of America's finest, so not only will there be at least 5 Dodge Vipers, but there'll be 2 Ford GTs, one AC Cobra and one Ford Mustang too.
Elsewhere you'll find Aston Martin Vantages and DB9s, Ariel Atoms, and a Mercedes CLK DTM and SLS.
But the most exciting cars are the odd-balls of the group: also confirmed is a Lola SP300R, a Lexus LFA, a Tesla Roadster, a Lamborghini Diablo SE30, a Pagani Zonda, and a McLaren 12C piloted by evo magazine's editor Nick Trott.
If you have a free weekend, head on down to Dunsfold, and even if you don't, just get there; rides in supercars cost just £20.