Stories Published on February 13th, 2011 | by Seán Ward
1
Swedish Man Faces World's Biggest Ever Speeding Ticket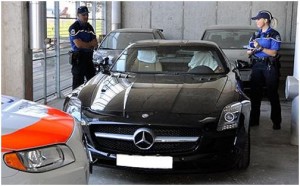 A Swedish man was given the world's biggest ever speeding fine at £650,000 after being convicted yesterday.
He was caught doing 180 mph in a brand new Mercedes SLS and said that "I think the speedo on the car, which is new, is faulty".
The sum of his fine was calculated using a formula that uses both the driver's income and the speed at which they were caught.
He will now have to pay £2,166 per day for 300 days; in total, £649,800.
A police spokesperson said after the conviction: "We have no record of anyone being caught travelling faster in the country".
Published on 17th August 2010 at www.motoringpress.wordpress.com.