Stories Published on June 12th, 2012 | by Seán Ward
0
Testing a Veyron Grand Sport Vitesse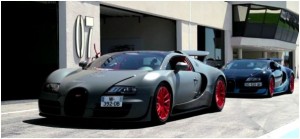 You know the feeling. When you wake up in the morning and are disappointed to discover you'll only be testing two Bugatti Veyron Grand Sport Vitesses.
'2SecondClub' were invited to an exclusive event at the Paul Ricard Test Track in which potential customers of the 30 convertible Veyron Super Sports are allowed to thrash the two Geneva show cars, and learn the racing lines and racing techniques used in a convertible car with 1,200 bhp.
It's a nice video, but you can't help thinking it would be so much nicer filming it.