Concepts Published on April 25th, 2013 | by Seán Ward
0
The Audi TT Ultra Quattro – The Lightest TT Ever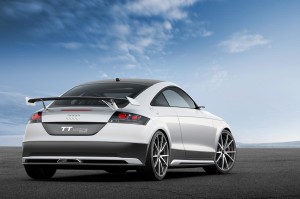 Audi will be showcasing a new, lighter TT next month called the 'TT Ultra Quattro', which Audi claims is the lightest TT ever, weighing in at 1,111kg.
It'll be shown at the Worthersee Festival in Germany, and while the car will probably never see production, it points towards how Audi will use carbon and fibreglass technologies on new cars over the coming years, and showcases new methods for reducing weight on road cars, with Audi saying "the deployment of these materials could conceivably inform the development of future low-volume Audi model series."
To create the Ultra, first Audi took a standard 2.0 litre TT TFSI and increased power and torque from 211 bhp and 258 lb/ft to 307 bhp and 294 lb/ft thanks to modifications to the crankcase, crankshaft, flywheel and sump, which themselves reduce weight by 25 kg.
Performance has therefore been improved, with 0-60 mph taking just 4.2 seconds, and a new top speed of 170 mph.
The main focus, however, has been on removing weigh, of which Audi has managed to remove a considerable amount: 300 kg, in fact. The weight savings come about thanks to a carbon rear wing, aluminium wing supports, R8 GT seats (weighing 22 kg less than the TT seats), new magnesium floor panels, carbon body panels, ceramic brake disks, a titanium exhaust system, and new carbon fibre reinforced polymer (CFRP) wheels.
Audi has also moved various items of the car's internals around to help with weight distribution. Two examples that Audi provide are firstly the relocation of the starter battery to underneath the driver's seat and the change from a lead based battery to a lithium-ion unit (saving 4 kg), and the loss of the wing mirrors, which have now been replaced by two cameras that feed live video into the cabin.
One final modification is to the suspension, where engineers have changed the usual steel coil springs to ones made of a fibreglass-reinforced polymer (FRP).
What strikes as odd, though, is that Audi has decided to make the modifications to a standard TT rather than incorporating them into the TT RS Plus, which has more power and torque to begin with (357 bhp and 342 lb/ft), weighs less than the 2.0 TFSI TT at 1,450 kg, and is faster than the Ultra Quattro, with 0-60 mph taking 4.1 seconds and the top speed limited to 174 mph.
[portfolio_slideshow]