Stories Published on May 31st, 2011 | by Seán Ward
0
The Dacia Duster 'No Limit'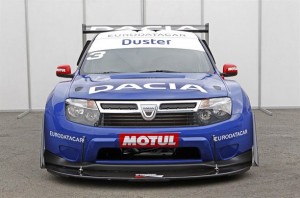 Dacia has unveiled a highly modified version of its Duster, known as the 'No Limit'.
It has been named the 'No Limit' partly because it will be competing in the Pikes Peak International Hill Climb in the summer, but mainly because it has the same 3.6 litre V6 usually seen in the Nissan GTR, but tuned to produce 838 bhp.
Its six-speed sequential gear box has been specially designed to cope with the power, as well as an all glass fibre body.
The car will compete in the 'Unlimited' group of cars at the Hill Climb in June.

[portfolio_slideshow]