Stories Published on December 3rd, 2011 | by Seán Ward
0
The Fastest 599 Ever – the 599XX Evolution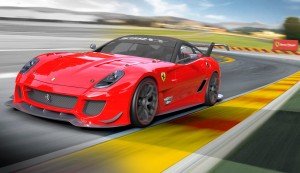 Ferrari will be making available an 'Evolution Package' for 599XXs for 2012.
It will feature a modified chassis, a much more active aerodynamic body package, new Pirelli tyres, and a modified electrical system, making the car even more responsive than the 'standard' 599XX.
Ferrari engineers have taken inspiration from the DRS (Drag Reduction Systems) introduced to Formula One cars for the 2011 season when designing the new rear wing, so now two flaps are opened and closed when the computer systems deem it necessary, based on inputs like steering wheel angle, longitudinal acceleration, lateral acceleration and vehicle speed.
The system provides more down force, and therefore higher cornering speeds, when closed, and less aerodynamic drag when opened. At 200 kph, this equates to 440 kg of down force and 330 kg of down force respectively.
Power has been increased to 750 bhp, and torque to 700 Nm.