Stories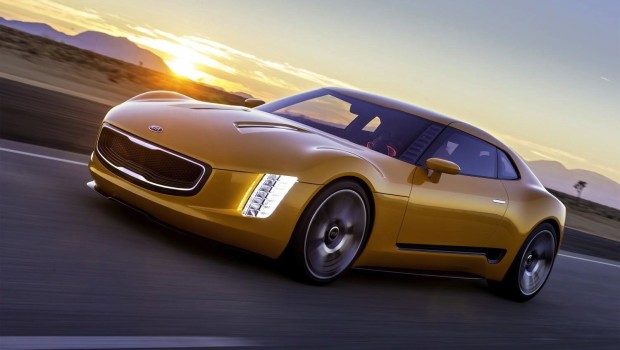 Published on January 26th, 2014 | by Seán Ward
0
The GT4 Stinger – Kia's RWD Sportscar
This is the Kia GT4 Stinger Concept, perhaps the most brilliant Kia concept car we've ever seen.
Unveiled in amongst a display of Kia's current cars, it was a real Detroit-show surprise and drew unusually large crowds to the Kia stand.
As seems to be the trend in an economy recovering from a recession, the GT4 is not a W16 improbable supercar but instead a simpler, lower powered, rear wheel drive sports car.
Under the bonnet is a 2.0 litre, four-cylinder, turbocharged engine with around 315 bhp (115 more than the Toyota GT86…), with power going to the rear wheels via a sis-speed manual gearbox to make it, as Kia say, a "true enthusiast's machine", "harking back to the glory days of purebred, affordable sports cars."
"Driving enjoyment was the number one priority in designing the GT4 Stinger," said Tom Kearns, Kia's Chief Designer at the company's US design centre. "It's a 2+2 sports car that can turn heads as a daily driver while also being right at home on the track.  It's about purity, simplicity and timelessness. The GT4 Stinger is a throwback to days when driving a car was a visceral experience that wasn't muted by electronic gimmickry."
There's headroom for power increases, too, as Kia uses the same engine, albeit tuned, to produce 400 bhp in their Pirelli World Challenge Optimas.
The most obvious difference between the Stinger and the current affordable sportscar benchmark, the GT86, apart from the power figure is the tyres; whereas the GT86 relies on skinnier tyres with less grip for fun, the Stinger employs much larger 235/35R20 Pirelli P-Zeros at the front and 275/35R20s at the rear.
Braking performance and handling should both be impressive, as inside the 20 inch wheels sit 381 mm cross-drilled disks, and the weight of the car (1304 kg – 122 kg more than the GT86) is split with 52% up front and 48% at the rear.
One feature that's unlikely to make it to production is the double wishbone suspension all round, but we hope Kia prove us wrong.
In terms of design, it's unlikely a body in this shape will make it into production as the concept doesn't conform to a number of pedestrian safety and height regulations, but if the cars looks 90% as good as the concept it'll be quite a looker.
"We gave the car a shrink-wrapped appearance," said Kearns at the reveal. "It's as if the body panels were formed around the chassis instead of merely welded to it."
Will Kia ever build it? To quote Kia, "While there are currently no plans to bring the concept to production, Kia has a history of delivering production vehicles that bear a strong resemblance to the concept that preceded them, and the GT4 Stinger provides a possible and highly provocative glimpse into Kia's future."
Fingers crossed.