The Supercar Event 2013 Published on June 3rd, 2013 | by Seán Ward
1
The Supercar Event – Back Again, But Bigger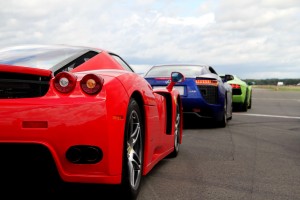 The Supercar Event is back again at Dunsfold for its fifth year, and it looks to be bigger, better and noisier than ever before.
For 2013 the event is being held on Saturday the 15th and Sunday 16th June at Dunsfold Park, Surrey, which most will know is the home of Top Gear; The Top Gear track, in the summer, in a Ferrari – sounds alright, doesn't it?
Raising money for the Children's Trust, thousands of people attend each year, with the number increasing every time.
Formerly known as 'Dad's Day Out', organisers decided last year that a name change might bring in a few more visitors. They also decided to make it the two day event it will be again this year, and invite some more muscle to the party, so as well as supercar help from Club Scuderia and Petrolhead Nirvana, Lexus is joining in with the fun and bringing one of the only Lexus LFAs in the country along for your enjoyment.
As well as the LFA, the usual suspects will be at the track, including a Ferrari Enzo, Koenigsegg Agera, Pagani Zonda, Lamborghini Aventador, and dozens of other Ferraris, Astons and Lamborghinis, Nissan GTRs and McLarens. Last year even saw a Ferrari 275 GTB.
Supercar Event tickets can be purchased online with rides in cars priced from £20.  Best of all, it's a charity event that raises money for the Children's Trust, so not only do you have fun but you pay for the ongoing support that the Children's Trust gives to children and families across the country.
For your enjoyment, here's a ride in the Lexus LFA last time. Watch as it eats Ferraris.
See photos from the The Supercar Event 2012.