Stories Published on April 19th, 2012 | by Seán Ward
0
The Ugliest 458 Ever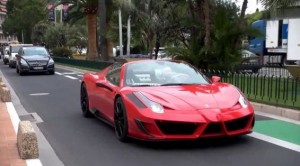 When the 458 was launched in 2009, it was hailed not only for being an excellent driver's car but also the first properly pretty Ferrari for a number of years.
But take off your caps in respect, and call your relatives for moral support, because Mansory has clearly gone to work on this man's car and, as with all cars that enter into the Mansory workshop, it has been completely and utterly ruined.
More to the point, it's a brand new 458 Spyder that probably wasn't even driven and admired before the terrible modifications were made.
The front has been designed to look like an Enzo, and by doing so it is probably incredibly aerodynamically unstable, the rear end has been given lots of grilles and 599 GTO vents that really don't work, and the interior has also been torn apart and replaced by something that would make a Nissan Sunny's interior look worse!