Stories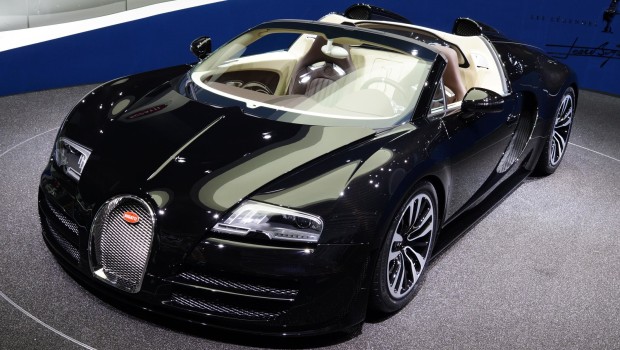 Published on October 9th, 2013 | by Seán Ward
0
There Have Been 34 Special Edition Veyrons… So Far
If you think of the Bugatti Veyron, you think of power, speed, and money. But more recently, you think 'Special Editions'.
400 Veyrons have been built since 2005, 300 of which have been coupés (the Veyron and Super Sport) and the other 100 convertibles (the Grand Sports and Vitesse), with another 50 convertibles due to be built. But out of these 400, 34 have been special editions.
18 are 'official' Bugatti specials (although at least another four are due to be made) and another 16 'unofficial' specials have been built over the years.
It's not that building special edition cars is a particularly bad thing, as the fact that VW started the Veyron programme at all when each car makes a loss of £3,887,051 (a total loss for Bugatti of £1.43 billion) is a fantastic triumph of engineer's brains over accountant's books. But nowadays we here the word special thrown about a bit too much, wouldn't you say? Surely every Veyron is 'special', no matter what name it carries?
Here's the list:
Veyron
Veyron Pur Sang – 2007
Fbg par Hermès – 2008
Sang Noir – 2008
Bleu Centenaire – 2009
L'Edition Centenaire – 2009
Sang d'Argent – 2010
Nocturne – 2010
Grand Sport
Sang Bleu – 2010
Soleil de Nuit – 2010
L'Or Blanc – 2011
Bernar Venet – 2012
Wei Long – 2012
Fbg par Hermès – 2013
Super Sport
World Record Edition – 2010
Sang Noir – 2011
Vitesse
Vitesse World Record Car Edition – 2013
Les Légendes des Bugatti Jean-Pierre Wimille – 2013
Les Légendes des Bugatti Jean Bugatti – 2013
(Another four 'Les Légendes des Bugatti' cars will be built, with three due in 2014 and the next car due to be unveiled at the Dubai Motor Show in November.)
Unofficial
Pegaso – 2007
Grey Carbon – 2010
Royal Dark Blue – 2010
Sang Blanc – 2010
Bijan Pakzad Edition – 2011
Matte White – 2011
Red Edition – 2011
Middle East Editions – 2011
Black Carbon – 2011
Edition Merveilleux – 2011
Le Saphir Bleu – 2012
Pur Blanc – 2012
Bernar Venet – 2012
Vitesse SE – 2012
Wei Long – 2012
Lang Lang – 2013