Stories Published on September 22nd, 2012 | by Seán Ward
0
This is the Jaguar F-Type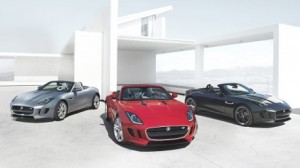 It's been a long time since the Jaguar F-Type was first shown to the world (well, five months, but for anyone interested in cars that is just far too long), but here, at last, the first official picture has been released to the world.
Shown here in convertible form (so far all testing has been done on coupé mules, though a hardtop is expected), three engines will be available from launch: a 340 bhp supercharged V6, a 380 bhp supercharged V6, and for fans of trips to the see Michelin Man, a supercharged 5.0 litre V8 with, supposedly, more than 500 bhp.
The car will be unveiled at 8am (CEST) on the 27th September at the Paris Motor Show, and luckily for those of us who can't go, the press conference will be streamed live over the internet.