Stories Published on December 16th, 2011 | by Seán Ward
0
TomTom's Christmas Video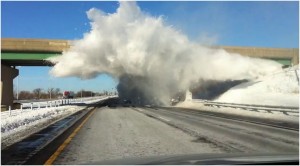 TomTom's 2011 Christmas video has been released, and this year it reminds us to drive safely this holiday season.
"Sometimes reaching your destination can be a bit more tricky than usual. We at TomTom want to remind you to drive extra safely this holiday season. Check your route before you set out!"
The video shows the tricky spots motorist can get into if they try to drive up and icy hill, get out of their crashed car when on ice, put the brakes on when sliding, or are stuch behind a lorry with a few tons of snow on its roof when it goes under a low lying bridge.
Be warned: if you're using your car this Christmas, make sure you watch this video… And stay indoors with some coco, and a big Labrador curled up at your feet… And read a fine novel…