Stories Published on September 9th, 2011 | by Seán Ward
0
Top 10 In-Car Distractions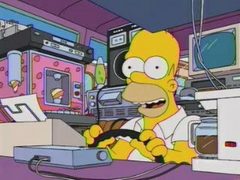 A study, conducted by MoneySupermarket.com, has revealed the top 10 driving distractions for modern British motorists.
16, 485 motorists every year are convicted every year for driving without due care and attention, all of which are landed with a £60 fine.
Also, the offense, on average, increases car insurance premiums by 27%.
So, in an attempt to warn drivers of what can happen, and to make them realise how often they actually take their attention off driving, the top 10 list has been compiled.
10 – Twitter
Propping up the leader board of distractions is the temptation to Tweet while on the move; 1% of the motorists surveyed said they used the site.
If you haven't done it already, follow newmotoring on Twitter!
9 – Facebook
Just coming ahead of Twitter, 2% of motorists say they use the site.
Shameless plug: Follow newmotoring on Facebook.
8 – Appearance
5% of people said that trying to improve their appearance, by doing things like applying makeup or doing their hair, caused them to take their eye off the road.
7 – Sleeping
While this may not seem like a distraction, because when you're asleep you're not distracted, you're unconscious, 5% of motorists admitted they have fallen asleep behind the wheel.
6 – Seat Belts
Seat belts save lives, or do they?… Although they are known to save lives, 15% of people said they don't wear seatbelts. Furthermore, motorists quite often set off without their seat belt done up, forcing them to do them up when they're driving.
5 – Texting
16% of motorists surveyed said they text friends or colleagues when driving.
4 – Having a look at others misfortune…
21% said they look slow down to look at others if they have a puncture or have had an accident.
3 – Phone Calls
Two places above texting, making and receiving phone calls comes in at number three in the top 10 distractions list.
2 – Eating and Drinking
Although the figure is probably much higher, 51% said they eat or drink when driving, most commonly during the morning commute.
1 – Music
Whether its radio, cassette, MP3 or CD, 61% of those surveyed said they're distracted by music. Adjusting the volume, changing the song, getting to your favourite part of the song – all of these things are, according to the survey, a danger to motorists.
So, all in all, keep an eye on what you do – don't slip into bad habits, and most importantly, pay attention to the job of driving!
Unless you can afford a Maybach, in which case tell your chauffeur to put his phone away.