Stories Published on June 13th, 2012 | by Seán Ward
0
Top Gear 720 Stunt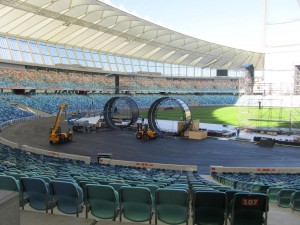 Top Gear, famous for stupid stunts that hardly ever work, is taking on its most ambitious stunt this summer at Top Gear Live.
The stunt in question, as the name suggests, involves a stuntman (The Stig) taking a special buggy into two loop-the-loops at a very precise speed. Speed is so important that all the controls have to be locked off by the driver using buttons on the steering wheel, as the G-Force produced during the stunt would almost certainly cause Stiggy to depress the throttle and have a massive accident.
"We've designed some pretty outlandish car stunts over the past four years from car bungees in Moscow's Red Square to jet propelled pushbikes, but this double loop the loop has the greatest chance of going wrong," admitted Top Gear Live Creative Director, Rowland French.
"We've completed a single loop the loop as the climax to the previous Carmageddon Tour more than 80 times, and you know barring any acts of God, the buggy will make it through. Adding the second loop, though, multiplies the danger by more than two and creates the very real possibility of the buggy falling out from the top of the second loop.
There are absolutely no margins for error, which is probably why no one has ever been mad enough to try it before."
The stunt will be performed for the first time this weekend at the Top Gear Live tour in South Africa.
Officially, this is the first Top Gear challenge where, for the sake of Stig, everyone needs to not be 'ambitious but rubbish'.