Drives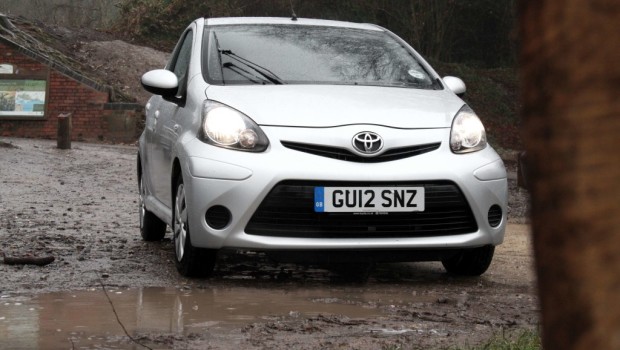 Published on July 1st, 2013 | by Seán Ward
0
Toyota Aygo Ice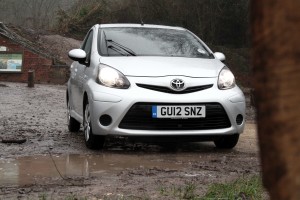 Toyota, I'm sorry. It's been three weeks since the Aygo parted my company, but my delay in writing this has not come from a lack of caring about the Aygo, and isn't entirely down to poor time management. Instead the delay has come from a difficulty in finding new and interesting things to say.
You see, in October 2012 a Peugeot 107 was delivered to my door. I was truly delighted, partly because this was my first ever week long press loan, but mostly because the 'Plum' exterior perfectly matched one of my jumpers.
Very quickly I learned that the gearbox was a bit ropey and that any attempt to attack a corner, or drive with any sense of vigour, would result in a near-roll experience that could shorten the life of a lion. I doubt very much that the car would ever roll over unless driven like an idiot, but the car's handling wasn't exactly confidence inspiring, and it got to the point where I didn't trust the idea of being able to make an emergency lane changes on the motorway.
That being said, I missed the 107 when it went. It had a fair dollop of personality, was great fun when you tip-toed through corners and accelerated everywhere else, and getting to know it was a good laugh.
So, when the Aygo arrived I expected much of the same. The specs of the cars are identical, so I couldn't have asked for a better comparison, but precisely because of that, it's been challenging to think of new and interesting things to say.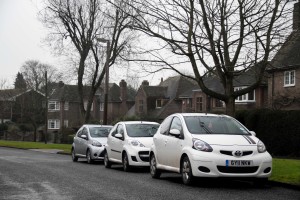 Let's start with the basics: the Aygo 'Ice' was in an identical specification to the 107 I had previously, and so came with iPod and auxiliary connections, Bluetooth, a CD player, a decent radio, a trip computer, and electric windows at the front (with interesting boat-hatch like windows at the back). In short, you got all the basic bits of kit that are more or less necessities nowadays. That in turn began to make up for the basic dashboard plastics, tiny boot and a steering wheel that adjusts for rake only.
Mechanically, it was identical to the little Pug too, with the same raucous 1.0 litre, three-cylinder engine producing 67 bhp and 68 lb/ft of torque, allowing 0-60 mph in 14.2 seconds, and a top speed of 98 mph.
As a result, it has much the same character as the 107 on the road: the engine is fun but needs to be revved hard to make progress, feeling at its strongest in the mid range rather than at the very top end. Yes, fuel economy does suffer (the claimed 65 mpg seemed rather far away), but taking a small engined car with five gears on the motorway is bound to harm the mileage.
Underneath the lightly restyled 2012/13 body you've got a high tensile steel chassis, and the same MacPherson front suspension and Torsion Beam rear as every Aygo has had since the car was launch in 2005.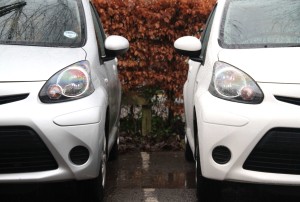 Honestly, it all sounds like a pretty basic recipe for a car's mechanicals, but truth be told it's alright. Big bumps, especially mid corner bumps, are not to the Aygo's liking, as you'll find the whole car start to skip and hop, and passing lorries on the motorway is an equally alarming experience too.
The brakes and the gearbox are OK too, although the gearbox suffered the same problem as the Peugeot and made a foul grinding noise even with the clutch fully down when going from first to reverse.
Enough mechanical chit chat, though, as looking at the car as a whole, if you don't want to drive for the sake of driving (I doubt many real world Aygo buyers are looking to push their car in the bends) the little Aygo is fun, quite frugal, and offers a nice package to anyone looking for a small car.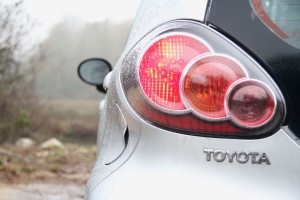 Think about it: if you have £7,995 in your wallet right now you could pop to your local Toyota dealership and buy a brand new car that's well equipped (although doesn't come with SatNav), has a 5 year mechanical warranty, and a 12 year paint and body work warranty. Granted, you don't get the five-door 'Ice' with metallic paint that I tested (retailing for £10,740), but you'll get a Toyota Aygo all the same. (Aygos also do a remarkable job of holding most of their value.)
Interestingly, looking at the price lists, the Aygo, 107 and Citroën C1 all cost £7,995, and you get an extra 2 years worth of warranty with the Aygo. That can't be all that bad?
Should you buy one? What's it like for the enthusiast?
Dynamically, a Yaris, Auris, or probably anything other than the smaller IQ would be better out on the open road than the Aygo. Its engine is great fun, but the gearbox isn't as refined as it should be, long bends at anything more than 20 mph feel horrible, and despite the styling updates, both inside and out the Aygo is starting to look a little dated, even with cool LEDs.
But, and it is a big but, in town, the where the majority of Aygo buyers will spend most of their time, it's fun, nippy and a damn good laugh. Jumping hither and thither, like the 107, I missed it when it was taken away again.
In some ways I even like how there's no real contradiction in personality. Straight from the off, the lack of sat-nav, painted metal on the inside, basic plastics and simple controls tell you it's a basic car and is best suited for doing small, low speed dashes.
In summary, if you need to drive in town at lowish speeds, the Aygo has personality and a three-cylinder engine that sounds hilarious. Bear in mind, though, that it'll feel slow and compromised out on bigger, more serious roads.