Stories Published on January 25th, 2012 | by Seán Ward
0
Toyota LeMans Racer Unveiled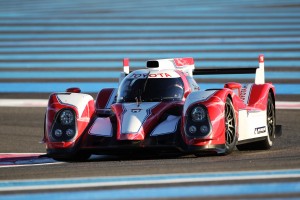 Toyota's LeMans racer for 2012 has been unveiled as part of Toyota's new campaign to tackle the FIA World Endurance Championship.
Toyota Racing intends to enter two TS030 Hybrid cars over the 2012 season, the first car piloted by Alex Wurz, Nicolas Lapierre and Kazuki Nakajima, and the seconds by an as yet undisclosed driver selection.
TS030 (Toyota Sport) Hybrid is the successor to the TS010 and TS020 that raced in endurance championships in the late 1990's, although these weren't hybrids, making the new team the first to bring a hybrid car into the 2012 season.
Yoshiaki Kinoshita, Team President, said: "Of course we would love to win Le Mans; that is the dream for all competitors in this race. But we are realistic and we know we need to develop and to learn in order to compete with some very strong competition.
Our target this year is to show the performance level of our car and particularly the THS-R powertrain."
Hisatake Murata, Hybrid Project Leader, added: "Toyota has been working on hybrid systems for motorsport for several years, during which time we have made huge progress. Now we feel ready to bring our technology to the ultimate motorsport test: the Le Mans 24 Hours.
"Integrating a hybrid powertrain is, of course, a different challenge compared to a 'standard' powertrain. But we have worked together with partners such as DENSO, Aisin AW and Nisshinbo to develop the THS-R technology so it is part of the overall concept of the TS030 Hybrid.
"This technology will be used to recover up to 500kJ between braking events, energy which can be released via either front or rear motors to deliver a performance advantage.
Toyota's hybrid technology has already won a 24-hour race – the Tokachi 24 Hours in 2007 – so now we are bringing the latest THS-R development to global motorsport; we know this is a technically-demanding exercise but we are well prepared for the challenge."
The car has a 3.4 litre naturally aspirated V8 engine, ventilated front and rear carbon brake disks and hydraulic assisted steering.
Alex Wurz, the team's lead driver, said it was odd to be in a hybrid for the endurance series: "It was cool to drive the TS030 Hybrid car for the first time. Just leaving the garage on the electric power is very futuristic, then when you let the clutch go and the internal combustion engine kicks in it is like an old friend has returned!
When we put on the slick tyre I could feel the car generates a very good amount of grip so I think we have a good base and can turn this into a really fast car.
"I am definitely very happy but my nature is to also be analytical and therefore I know there is still a lot of work to be done.
"It's really good to work with all the mechanics and engineers; the Toyota Racing team is very international and this works well. I am very comfortable in this team because they are all extremely professional, that is really clear."
The new team, which is based at Toyota Motorsport GmbH (TMG) in Cologne, Germany, will make its race debut on 5 May in the Six Hours of Spa-Francorchamps, the second round of the FIA World Endurance Championship.
[portfolio_slideshow]