Motor Shows Published on January 12th, 2012 | by Seán Ward
1
Toyota NS4 Hybrid Concept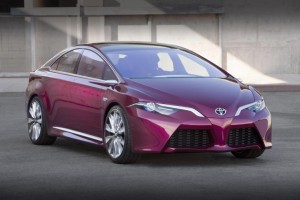 The latest hybrid concept from Toyota isn't a revamped Prius, but instead a sporty looking hybrid that places its emphasis not just on economy but safety and connectivity.
Toyota's engineers have spent most of their time trying to reduce component size, therefore decreasing weight and improving fuel economy – for example, the batteries weigh less that those found in the Prius, as do the wheels, body panels and even the steering wheel.
The NS4 supposedly hails in a new design language for Toyota, which Toyota says aims to make an emotional connection with consumers – quite how this is achieved we don't know.
Inside the concept, a new 'human-machine interface' (HMI) has been designed between Toyota and the likes of Microsoft and Intel. The dash mounted touch screen system is designed to look like a smartphone and provide as fewer driver distractions as possible.
Jim Lentz, president of Toyota USA said: "In this digital age, cars are becoming another spoke in the wheel of our electronic connectivity. NS4 demonstrates Toyota's take on the human connection to the car with technology that considers both emotional and rational relationships, person-to-car and car-to-society."
If the concept were built, it would use a new radar pre-collision system and blind spot monitoring system to try and avoid any kind of incident.
Toyota has made quite an emphasis on the windscreen, saying that it incorporates four new windscreen technologies: a hydrophobic coating, an anti-fog coating, UV absorbing glass, and a special film which reduces the temperature inside the car.
Lentz added: "The continued success of our conventional hybrid vehicles laid strong groundwork for market acceptance of future advanced technologies. NS4 demonstrates Toyota's ongoing commitment to enhancing the safety, efficiency, and convenience of future mobility for people everywhere."
[portfolio_slideshow]