Stories Published on January 11th, 2012 | by Seán Ward
0
Toyota Yaris Hybrid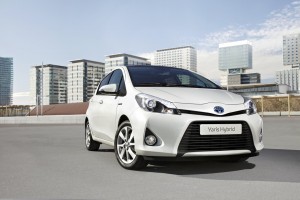 Details and the first pictures of the new Yaris Hybrid have been revealed ahead of its official launch at the Geneva motor show in March.
Based on the latest generation Yaris, but has a few modifications to accommodate the hybrid's batteries, and a few changes to the bodywork to make it as aerodynamic and fuel efficient as possible.
The car uses a standard 1.5 litre Yaris petrol engine that kicks in at higher revs, as well as a number of lithium-ion batteries to power the drive wheels at low speeds. As a result, the car has an approximate power output of 98 bhp.
The engine can also be used to charge the batteries, rather than just powering the wheels.
All in all, the whole system weighs 20% less than the Auris Hybrid powertrain.
Some are speculating as to whether the Yaris Hybrid will feature a Kinetic Energy Recovery System to harness the car's kinetic energy and charge the batteries under braking.
On the inside, buyers will find the same quirky interior found in the standard car, with some new features that encourage a more relaxed driving style, similar to the colour changing instrument panel found in Honda's hybrids.
The boot is also just as spacious as the standard Yaris, giving 286 litres.
Automatic air conditioning and e-CVT automatic transmission are fitted as standard, which Toyota says signals that "customers do not have to compromise on comfort in order to achieve low emissions performance."