Stories Published on December 15th, 2011 | by Seán Ward
0
Tribute to Jim Clark Goes on Sale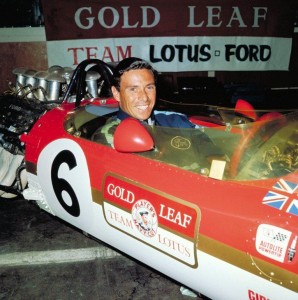 A tribute to Jim Clark is being resold for the first time as an e-book this month.
Jim Clark: Tribute to a Champion, by Eric Dymock, was released in 1997, twenty nine years after Clark died, but Dymock explained why he couldn't write it at the time:
I was approached to do a book, but at that time I could not. I needed to think about it. The accident at Hockenheim was a profound shock.
"Walter Hayes, head of Ford Public Affairs, like many of us, was at Brands Hatch at the BOAC 500. Sally Stokes, Jim's girlfriend, was in Holland. Jackie Stewart was in Spain. When I was researching the book they could all remember the dismay, the sheer disbelief, of learning Jim Clark had died in a racing car – so unthinkable they had never really thought about it. None of us had.
"We've watched later generations trying to cope with their calamities when Gilles Villeneuve died at Zolder, or Ayrton Senna at Imola. I couldn't write this book then.
"I had to try and capture this shaft of light. I knew I could accomplish it because I was there throughout his career. I had encouragement from Jim's sisters. I had encouragement from Jackie Stewart. Above all, I had encouragement from Ford Motor Company and from Walter Hayes. He not only felt it was time to take a new look at Jim Clark: he felt it was time to sum up an era of motor racing on which he, Hayes, had had a big influence."
Sally Stokes, Clark's partner at the time of his death, said "What a magnificent piece of writing. I know Jimmy would be touched by such a tribute."
The Kindle version is available for £6.99, and the Adobe Digital download is available from £10.99.