Video Published on June 3rd, 2013 | by Seán Ward
0
Tribute Video Says Goodbye to LFA, But Will It Be Replaced?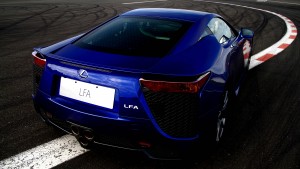 Lexus made the last LFA delivery last month, and now comes the final farewell from Lexus in the form of this video.
Normally corporate videos are pretty terrible, but Lexus has kept this one simple: show the factory, show the car, show the people that build it, and play the V10 thunder.
More than that, they finish the video with 'For Lexus, this is only the beginning', which could be construed as corporate chat, but hopefully signals the creation of an LFA replacement somewhere along the line.
Speculatively speaking, any replacement is unlikely to have a V10 [sigh], and instead some sort of turbo V8, but with a turbo unit comes more torque and, what with the power race that seems to be making its assault on the world, it'll probably have more power too(the LFA had 552 bhp and 354 lb/ft of torque). Pricing will almost certainly eclipse the LFA's £350,000 too.
But this is all speculation – no official LFA replacement plans have been made… Yet.
Only 40 LFAs made it to Europe, of which the UK saw 4, all of which are not owned privately and 3 are never seen. But one was bought by Lexus UK and can be seen fairly often, with its next appearance set to be made at The Supercar Event in two weeks time.