Stories Published on February 23rd, 2011 | by Seán Ward
0
Tunisian President's Ferrari Stolen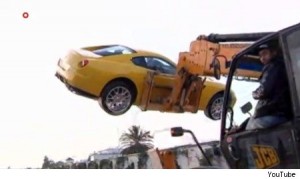 Following the recent political unrest in Tunisia, and the resultant fleeing of President Zine al-Abidine Ben Ali to Saudi Arabia with his family, various assets of the once President have been 'looted'.
In amongst these assets was a bright yellow Ferrari 599 GTB Fiorano which looters decided was just too good to leave.
The £200,000 Ferrari was subsequently carried away by a handy forklift truck.
Published on 24th January 2010 at www.motoringpress.wordpress.com.