New Cars Published on June 28th, 2013 | by Seán Ward
0
TVRs Back on the Road by 2015, Reports Autocar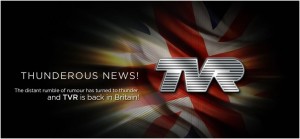 Autocar has reported that TVRs will be roaring around England once again as early as 2015, after talking to the firm's new owner Les Edgar.
According to Edgar, the firm is now run by three directors with himself as Chairman, and he led the process of buying the TVR name, design rights and assets back at the start of June.
The Autocar story continues by saying that Edgar plans to launch two cars with entirely new designs, and that both will compete against a "secondhand Aston" in terms of price, but not necessarily performance, and also that TVRs will continue to be "supercars for the common man".
"The project started with a few of us, all lovers of drivers' cars, talking about building the modern expression of the traditional British sports car," said Edgar, talking to Autocar's Editor in Chief Steve Cropley.
"Most of us have business backgrounds. We knew we really needed a decent brand to make the thing fly, but the brand we really wanted wasn't available.
"TVR's owner, Nikolai Smolenski, had been approached by many other bidders and always said he wouldn't sell. Then one of us became aware of a new opportunity to talk to him and we started negotiating. I can't say he was a pushover to deal with, but he's become a good supporter of our project."
Read the full story on Autocar's site. Also, keep an eye on TVR's site for company updates.