Stories Published on August 10th, 2011 | by Seán Ward
0
Twin Turbo Gallardo Terrifies Passenger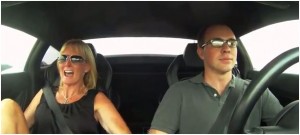 Once again, we find ourselves not reporting the latest breaking motoring news stories, but this video was too amusing to let go.
A chap called Robert Himler decided that the best thing to do with his recently uprgraded Lamborghini Gallardo was to take his mum for a spin and see what she made of it.
The power had been increased so that it can produce anything from 1000 bhp to 1250 bhp, with a spit of flame from the exhaust on gear changes, thanks to Underground Racing's twin turbos.
Normal service will be resumed shortly – enjoy the video!