Motor Shows Published on September 15th, 2012 | by James Allen
0
Twin-turbo V8 diesel for Porsche Cayenne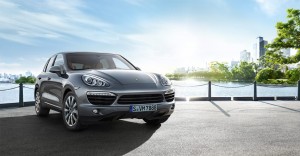 Porsche already offers a diesel engine in the Cayenne – a 242hp 3.0 V6 – but for those who'd like to blend "proper Porsche performance" with low-ish running costs can now opt for the all-new Cayenne S Diesel.
Announced ahead of its debut at the Paris Motor Show, this new flagship oil-burning Cayenne sports a twin-turbo 4.2 V8 with 377bhp and a rather meaty 626lb/ft of torque, which is also set to find its way into the Panamera range next year.
With that amount of power being sent to all four wheels via an all-wheel drive system that's been completely re-engineered for the Cayenne S Diesel, Porsche claims that the new top-of-the-range crude oil consumer can crack the sprint from rest to 60mph in 5.7 seconds, and head on to a top speed of 157mph.
This not only puts it on par with the performance of its equivalent rival from BMW, the X5 M50d, but also makes it nearly 2 seconds quicker to 60mph and 20mph faster than the standard V6-powered Cayenne Diesel.
Of course, the smaller capacity V6 was always going to be more efficient than the 4.2 V8, but the margin isn't quite as big as you might expect – the Cayenne S Diesel can, after all, return a claimed 34mpg, which isn't far off the 39mpg that the normal Cayenne Diesel can achieve.
Visually, there's very little on the outside that differs from the standard Cayenne Diesel bar tiny details like the black air intakes, and the images we have of the car's interior suggests that there aren't many new features (if any) for the Cayenne S Diesel's cabin.
Though Porsche hasn't announced when it'll go on sale in the UK, we do know the Cayenne Diesel S is scheduled to be launched in the European market by January 2013 at the very earliest, with prices starting at £58,243.
[portfolio_slideshow]