Stories Published on February 16th, 2012 | by Seán Ward
0
UK Manufacturing at Record High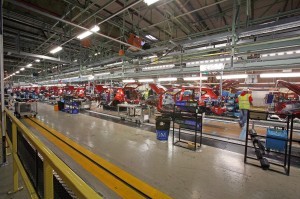 Figures released today by the SMMT (Society of Motor Manufacturers and Traders) show the UK car industry is at a 16month production high.
According to the figures, Britain produced 127,382 cars in January, a rise of 15.6% over the previous month. Engine production also increased by 5%.
The results also show that Britain exported 12.9% more than the previous month at 106,189 vehicles, and also produced 31.6% more cars (21,193) for the UK than December.
Paul Everitt, SMMT Chief Executive, spoke of the importance of the figures: "UK car production continues to drive manufacturing growth and a rebalancing of the economy.
"Success in markets around the world is a tribute to the quality and competitiveness of UK production facilities, management and employees.
"It is essential both government and industry continues the successful partnership that has helped deliver new investment and supply chain opportunities to secure long-term prosperity and jobs."
Sales of commercial vehicles, however, suffered a slight knock, with sales falling by 1.2%.