Stories Published on February 21st, 2012 | by Seán Ward
0
Updated Audi RS5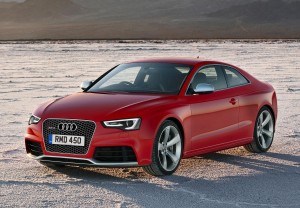 2012 sees the launch of an updated Audi RS5, dues to go on sale in the UK after April from £58,725.
It replaces the first generation RS5 which was unveiled in May 2010, and like the RS4 Avant unveiled last week, the new RS5 has a redesigned front end, pointer light assembly and larger front grille, as well as LED daytime running lights, although it's still recognisable my the massive front air intakes.
At the back, everything pretty much remains the same, although Audi still insists everything is 'updated'.
10-spoke 19" alloy wheels come as standard on the RS5, but customers can opt for a 'Sport Package' which costs an extra £2,250, but gives you bigger 20" wheels and a louder exhaust system, changes that would cost £2,915 if you specified it yourself.
Under the bonnet sits the same 4.2-litre V8 as before, but it now produces 450 bhp at 8,250 rpm and of 430 Nm of torque between 4,000 and 6,000 rpm, meaning 0-60 mph in 4.5 seconds and a limited top speed of 155 mph. Delimited, it can hit the same 174 mph as the RS4.
Combined economy stands at 26.9mpg, and the CO2 output stands at 246g/km.
On the inside, any previous RS5 owner will feel right at home: leather sports seats, clear instruments, a chunky steering wheel and drilled aluminium pedals. What's changed is that Bluetooth connectivity, cruise control, a DVD-based sat-nav system and the 'Audi Music Interface' are all standard.
At an extra cost, the cruise control system can be upgraded 'adaptive system with braking guard'. The new system used radar to keep the car at a safe distance to those in front at speeds between 19 and 155 mph, so if you spend much of your time blasting up and down the autobahn it's an option worth getting.
To help at cruising speeds, the RS5 uses a seven-speed S-tronic dual-clutch gearbox with a very long top gear, improving fuel economy and reducing engine noise.
It's unlikely that BMW fans will be particularly blown away with the RS5, despite the looks, as it has the usual Audi four-wheel drive system, which in this case splits the power 40:60 with the front and rear, although with the traction control on, up to 70% of the power can go to the front wheels or 85% to the rear wheels. A dash mounted traction control button can reduce the input of the system, or have it switched off altogether.
[portfolio_slideshow]