Stories Published on February 2nd, 2012 | by Seán Ward
0
Updated Smart FourTwo for 2012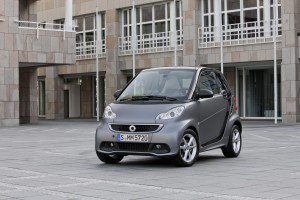 Smart has announced that its second generation Smart FourTwo will go on sale in Spring this year.
It features updated front intakes and a new radiator, as well as a more aerodynamic body and LED daytime running lights.
Depending on the model, you can either have 9-spoke, 3-spoke or twin-3-spoke alloy wheels.
While the word 'imitation' features a bit too heavily in the description of the interior, there is some real leather on the inside.
Like the old model, there are five trim levels: Pure, Pulse, Passion, Brabus and Brabus Xclusive, with Brabus Exclusive models benefiting from the Tailor Made package, which essentially adds a bit more jewellery to the car, as well as a custom colour soft top roof.
As well as having the choice of an all electric motor, you can have one of two petrol engines, the first a 799 cc engine with 54 bhp, 130 Nm of torque, a 0-60 mph time of 16.8 seconds and a top speed of 135 mph.
The other engine is a 999 cc unit, available with four power outputs, the most powerful of which is the Brabus model, with 102 bhp, 147 Nm of torque, a 0-60 mph time of 8.9 seconds and a top speed of 155 mph.
155 mph sounds impressive, but the odds are you're not going to be embarrassing any Mercedes or Audis, especially when it comes to corners; they may wear Brabus badges, but, if the old car is anything to go by, give the new FourTwo a corner and you'll be climbing trees.
Even though it seemed like the Smart had been killed off, 101,996 cars were delivered to customers worldwide in 2011, and a grand total of 1.4 million since it was launched in 1998.
Smart boss Dr Annette Winkler said she was looking forward to seeing the redesigned FourTwo on the road: "The way in which the ForTwo now displays the smart logo more prominently stands for the brand's new self-confidence.
"The smart ForTwo has long become an icon that is a defining feature of urban traffic throughout the world."
[portfolio_slideshow]