Stories Published on January 20th, 2012 | by Seán Ward
0
Updated Toyota Prius for 2012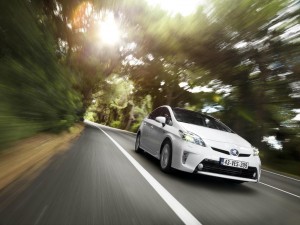 An updated Toyota Prius model for 2012 is being launched this week, boasting lower emissions, more technology and a few styling tweaks to match.
While the Prius probably won't be the most thrilling car to come out in 2012, it will at least continue to provide a good looking hybrid for a reasonable price: £21,350.
It returns 89g/km CO2 emissions and on the combined cycle 72.4 mpg – an impressive figure, but there are diesels costing considerably less that will return the same, if not better, figures.
There are a few minor styling changes, but the main aim for Toyota was to improve the interior quality and feel.
The body shell is supposed to be stiffer than it was before, allowing the car to have a slightly softer suspension set-up making for a more comfortable ride, but that's not to say that it will make is worse to drive. If anything, Toyota believes the car will be more responsive to drive and have much more steering feel.
A touch-screen control panel has been made standard on all Prius models, although the Toyota Touch & Go Plus multimedia and navigation system, with Bluetooth, rear view camera and USB connectivity, is an option on the T3 and T4 models, and only comes as standard on the Prius T Spirit.
Eight paint colours are available to chose from, two of which (Dark Blue and Cabernet Red metallic) are new for 2012.
Prices start at £21,350 for the T3, rising to £23,080 for the T4 and to £24,620 for the T Spirit.
20,000 third-generation Prius cars have sold since it was introduced in 2009.
[portfolio_slideshow]