Stories Published on September 5th, 2012 | by James Allen
1
Vauxhall to call new cabrio 'Cascada'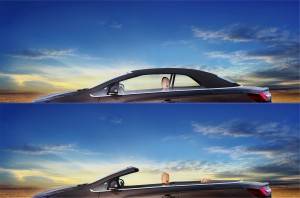 Vauxhall has just announced what it's generated an all-new nameplate for its upcoming four-seater soft top convertible – the firm's Audi A5 Cabriolet rival will be called the 'Cascada'.
Vauxhall's being very tight-lipped over the details of its new, far larger successor to the Astra TwinTop that went out of production last year - Vauxhall doesn't want the new car to detract attention from its Adam supermini, which'll be publically unveiled at the Paris Motor Show – but a few technical specs have snuck through the net, along with a solitary preview picture.
Perhaps the most prominent is the fact the Cascada will come with a fabric roof, instead of the metal mechanism that featured on Vauxhall convertibles of old, with claims it can be retracted and raised at speeds of up to 30mph.
Another key technical detail regards the car's size – at 4710mm, it's 70mm longer than the Audi A5 Cabriolet it'll compete against, which should bode well for improved practicality for passengers and luggage.
However, Vauxhall intends to undercut the German rival be a noticeable margin, with the range said to kick off in the £26,000/£27,000 ballpark. In comparison, the cheapest A5 Cabriolet on sale today retails for just over £29,000.
That, though, is where the tech specs end for the time being – we've no details on what engines will be featured, what the interior and exterior will look like, what the rest of the range will retail for, and so on.
However, we do know that Vauxhall intends to unveil it to the press and public fully by the end of the year, so it's likely we'll have quite a lot more to report on in the coming months.