Formula One Published on October 31st, 2011 | by Seán Ward
0
Vettel Breaks Records in India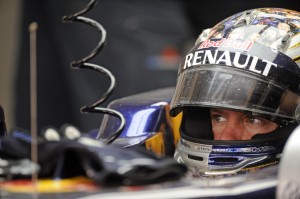 Sebastian Vettel came first in the inaugural Indian Grand Prix at the Buddh International Circuit near Delhi.
A new circuit for India, the 5.137 km circuit proved no trouble for Vettel, as he led from lights to flag.
As a result, not only did he manage the fastest lap of the race, but he also managed to break a very longstanding record: the most laps led in one season, a record held by fellow Renault-engined driver Nigel Mansell since 1992.
Vettel's teammate, Mark Webber, finished in fourth position behind Jenson Button and Fernando Alonso.
Red Bull also managed to secure the constructor's title for the second year running.
It was another difficult race for Lewis Hamilton after a collision with Felipe Massa at turn 5 on lap 24. Although the unexpected happed when Massa was awarded a drive through penalty, it was clear tensions were still high, as Hamilton, speaking after the race, he'd 'been nothing but kind to Massa'.
The BBC then showed an interview with Massa which clearly showed that Massa believed Hamilton was only out to get him, and not to race cleanly and fairly.