Video Published on June 24th, 2013 | by Seán Ward
0
Video: Aston Martin Racing Prodrive Tour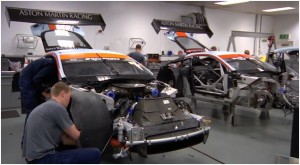 Aston Martin Racing brought five cars to Le Mans 2013: three GTE Pro cars and two GTE Am. Three made it to the end of the race, and sadly we know that not only did two crash out, but that Allan Simonsen in the #95 car was killed in the opening minutes of the race.
However, despite the accident, it is a tribute to Aston Martin Racing, Prodrive and the Simonsen family that the other three cars finished.
Last week, /DRIVE released a video showing the development and build for the five Le Mans Astons, as well as other customer GT4 V8 Vantages.
You also see some of the hidden gems of the Prodrive shop, including the Prodrive P2, Prodrive's dynamic concept, Colin McRae's Subaru Imprezza from 1996, and the Ferrari 550 GTS, Prodrive's Ferrari Le Mans car from 2001.