Video Published on June 26th, 2013 | by Seán Ward
0
Video: Mercedes A45 AMG v. BMW M135i v. VW Golf GTI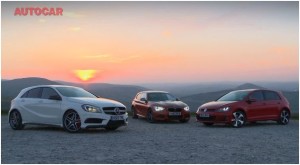 The 355 bhp Mercedes A45 AMG is one of the most impressive hot hatches to be launched, not to mention one of the most powerful.
But at nearly £38,000, it's massively expensive – think how much car you could get on the second hand market with that kind of money? You could even buy two used Toyota GT86s.
So what other competition is there? Well the most obvious choice is the Audi RS3, but seeing as they aren't being built anymore and they were all sold, there's no option for a comparison.
But there is the new BMW M135i, which is BMW's idea of a top-end hot hatch, but it costs just £30,000.
Then there's the hot-hatch yard stick, the new VW Golf GTI, which can be bought for £25,000.
It's an interesting video – not only do you see three very different 'hot hatches' get tested on the same piece of road, but also what 355 bhp looks like in a Mercedes A Class. It's rather amusing.
[youtube http://www.youtube.com/watch?v=CCoWi_wU-oM]