Motor Shows
Published on September 12th, 2012 | by James Allen
0
Volvo announces 'sporty' new C30 & V40 variants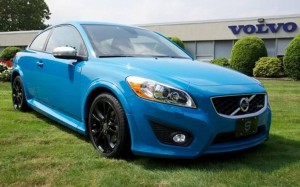 Not wanting to be left out of the brouhaha, Volvlo's just announced that it also has a couple of cars it wants to show off to the press and public: the C30 Polestar Edition and the V40 R-Design.
Though the name of the former automatically springs to mind the bright-blue 400bhp concept car from 2010, the road-going 'C30 Polestar Limited Edition' is much more similar to the current top-of-the-line C30, the T5 – the 250bhp it produces is identical to any C30 T5 that's fitted with the optional 'Polestar Performance Package', and the only major mechanical changes are the 30% stiffer springs and the quicker steering rack.
Apart from that, it's identical to any fully-loaded Volvo C30, except this one comes in an exclusive 'Rebel Blue' paint scheme and with unique alloy wheel design. Oh, and with an asking price of $32,445 (Volvo has only one market for this car so far – the US – and that only 250 will be sold in America), it's also considerably more expensive than the car on which it's based.
Things do look up, though, for the new V40 R-Design model range, and not just because the more sporty and aggressive body kit that comes with the R-Design trim is available on all V40 models – it seems that, under the skin at least, Volvo's done a far thorough job at making this one stand out from the crowd.
Fine tuned by Swedish Touring Car Championship contender Robert Dahlgren, the V40 R-Design has two different chassis setups – 'Dynamic' and 'Sport' – with the latter featuring a 10mm drop in ride height, stiffer springs and thicker anti-roll bars. All R-Design cars come with monotube rear dampers, which Volvo claims responds to bumps better than the equivalent system on the standard V40.
All is well on the inside too, with all the obligatory R-Design badges on the seats and such, along with a unique design of steering wheel, part leather/T-Tec seats, blue aluminium detailing and sports-orientated pedals, whilst the TFT screen now gets blue highlights.
And, as you can tell by the pics, the exterior also has a 'blue theme' – in fact, the same shade of blue as the aforementioned C30 Polestar – but is also available in five other colours if such a shade doesn't cater to your tastes.
Sources close to Volvo suggest that prices for R-Design spec cars start off at approximately £22,500, with the top-of-the-range T5 going for roughly £30,000. Deliveries are expected to start sometime in January next year.
[portfolio_slideshow]