Motor Shows Published on January 10th, 2012 | by Seán Ward
0
VW E-Bugster Unveiled at Detroit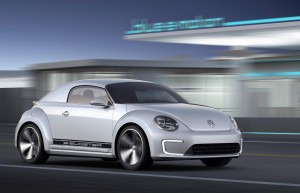 VW has unveiled the E-Bugster, an all electric sporty Beetle for the younger customer.
Badged as 'more power, less flower', the E-Bugster has an 85 kWh electric motor, which gives a 0-60 mph time of 10.9 seconds and a range of 110 miles.
A fast charging option allows the 28 lithium-ion batteries in 35 minutes, although quite what the lifetime of the batteries will be if buyers repeatedly does this is yet to be seen, but as with most electric cars, 'topping up' will probably wreck the battery within five years.
Although VW says the new top up system should not have any adverse affects on the battery's life, because it was developed using new technology from Audi, BMW, Daimler, Porsche, and General Motors.
The battery can also be charged on the move, as whenever the driver lifts off the accelerator pedal, or brakes, some of the kinetic energy is used to charge the batteries.
Luckily for VW fans, the car is the same length as the standard Beetle at 4,278, but 30 mm wider at 1,838 mm, and slightly lower roofline at 1,400 mm, 90 less than usual.
Like all new cars in the UK, daytime LED running lights are standard, as are 20 inch alloy wheels.
Inside, the two seat layout reflects what VW says is a 'blend of high-tech and sportiness'.
Although only a concept at the moment, VW may announce production after the new petrol Beetle goes on sale in April.