Motor Shows Published on December 2nd, 2011 | by Seán Ward
0
VW's SUV of the Future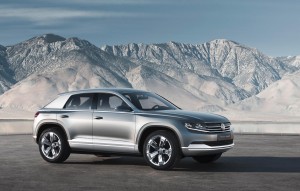 At the VW stand at the 2011 Tokyo Motor Show, a concept SUV was shown for the very first time, but unlike any other SUV, this is supposed to be the SUV of the future.
The 'Cross Coupé' is a four-wheel drive hybrid which shows what a VW SUV-Coupé crossover might look like, if a car like this is built in the next decade.
It's the first VW to use a new engineering design language known as 'modular transverse matrix', or MQB, with the design led by VW's Chief Designer, Walter de Silva, and Brand Design Chief, Klaus Bischoff.
As the name suggests, its size fits in between a coupé and an SUV or 4×4, and so measures in a 2,630 mm, 52 mm more than the two-door Golf, and just a few mm shorter than the Toureg.
Unfortunately, it only accommodates four, hence the slightly sporty looks, chunky rear bumpers, and twin exhausts, but it isn't all show and no trousers – it produces 450 Nm of torque from the two electric motors (one at the back and one at the front) and the equivalent of 265 bhp.
0-60 mph takes seven seconds, and the top speed is limited, largely because of the chunky body, to 125 mph.
[portfolio_slideshow]