Video Published on April 18th, 2013 | by Seán Ward
0
Watch Jay Leno Drive a 420 bhp Ford Focus RS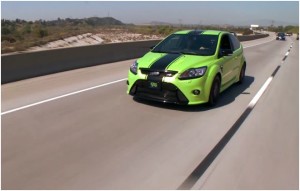 Jay Leno has some interesting creations in his garage – some are his own, others are brought to him to be tested for the day and then talked about with the engineers who built them. Today, Jay discusses the Mountune Ford Focus RS MK2 with 420 bhp, and answers the question "Will it do a burnout?"
The RS in question started out in life as a 2010 RS with the standard 301 bhp from the 2.5 litre turbo inline-five, only made driveable by Ford's clever limited slip differential at the front.
From there the car was taken to Mountune, where the 'MP350' kit was installed, which upped the power from 301 to 350 bhp, and the torque from 325 lb/ft of torque to 339 lb/ft. This included a new alloy intercooler, a high flow airbox, a new exhaust system, revised engine calibration, and the Mountune badging.
All in all, the 0-60 mph time of 5.9 seconds was reduced to 5.4, and the top speed increased from 163 mph to 165.
After that, an American based company called Galpin Auto Sports (GAS, for short) took the MP350 car and decided to add another Moutune kit, this time the 'MR375', which boosted power and torque further still to 369 bhp and 405 lb/ft respectively, and reduced the 0-60 mph time to 5.0 seconds.
But 375 bhp quite clearly wasn't enough in a Focus, so GAS added a methanol injection system, boosting power to the claimed 420 bhp. Quite how the tyres last more than a mile without being pulled apart is a miracle. (As Jay says in the video, "There's enough torque steer to let you know it's there, but it's not terribly intrusive. As long as you have both hands on the wheel, you're OK.")
Despite the engine modifications, the RS 420 keeps the standard Ford brakes, seats, and suspension, but has a small number of exterior modifications to set itself apart, the most obvious being the stripe.
And as PistonHeads have discovered, Mountune now turned their attention to the new Focus ST, with a test car spotted at the Nürburgring yesterday. ("PistonHeads have just spotted one of our development cars getting a workout at the 'ring… not long now folks!" said Mountune on Twitter.)