Formula One 2011 Published on November 29th, 2011 | by Seán Ward
1
Webber Wins Final Race of 2011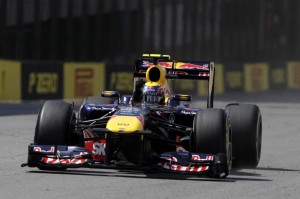 Mark Webber finished the 2011 F1 season with a flourish, coming first place, securing his seventh race win of his career.
It was "very good", said Webber in the post race press conference. "Felt good all weekend to be honest.
"It's a win that you'll take, for sure, because I've had enough bad luck and whatever you want to call it. That's the way that motorsport goes sometimes. So, it's a very important win for me and the team again to finish on a high.
"It would have been nice to have a race with Sebastian all the way through but I think he's had a little bit of a problem.
The problems started after Vettel announced on lap 14 that he had blistering tyres. After that on lap 15, 26, and 47 Vettel received messages from his chief mechanic stating that the car had "serious gearbox problems on red", and that he should "save the car", to which Vettel politely responded "I am going to fall behind", something which he later did, allowing Webber through rather than battling for a race he knew he could not win.
Speaking on the team radio, Vettel likened himself to Ayrton Senna who had a gearbox problem at his race in 1991.
McLaren's Lewis Hamilton was running well from 4th place on the starting grid, but a gearbox problem forced him to retire on lap 48.
Speaking after the race, Hamilton said that "I gave it my all, but it's been a long year. I'm looking forward now to spending some downtime with my family and friends."
Lewis' teammate Jenson Button had a much more successful final race of the season. He finished two tenths ahead of Lewis in Qualifying 3, putting him in 3rd place on the grid, and gaining him an eventual 3rd place finish, securing him a 2nd place finish in the Driver's Championship.
Ferrari's Fernando Alonso and Felipe Massa came in 4th and 5th respectively after a rather uneventful race. Massa pleased the home crowd at the end, though, by doing several doughnuts at the entry to the pit lane.
Renault's Bruno Senna had a very good qualifying session, making it to P9 in Q3, four tenths quicker than the time managed by his teammate, Vitaly Petrov, in Q2, but an unfortunate incident between Senna and Schumacher on lap 17 led to a drive through penalty for Senna and a punctured rear left for Schumacher.
At the chequered flag, Senna came home in 17th, and Schumacher in 15th.
Schumacher's teammate and fellow countryman Nico Rosberg had a much better race, although dropping a place from his qualifying position, finishing 7th overall.
Adrian Sutil of Force India came in at 8th place, with Scottish driver Paul Diresta finishing in 11th place, saying he was "quite relieved" he finished 2011 as the Top Rookie in F1, scoring 27 points overall, and helping to secure Force India's number six spot in the constructors championship.
Williams' Rubens Barrichello brought his car home in 14th place, completing his 322nd race in F1, as well as reaching 50,000 F1 career miles by lap 32.
"It was a fun race but we don't have a car that can finish in the points just yet" said Rubens after the race. "I want to thank the team for all their hard work this year. We have had a tough season but we've pushed together."
Rubens' future in F1 is still in doubt, although many say he still has what it takes to start his 20th season in F1 and finish in the points. Speaking about his future, Rubens said that "There's been a lot of talk over the weekend, but I believe I will be back again next season."
His teammate, Pastor Maldonado, retired from the race on lap 26 after spinning into the barriers at turn seven. "The car had too much oversteer and I just lost control of it", Pastor said after the incident.
The only other drama came from Virgin-Cosworth's Timo Glock. After qualifying in last place, he was battling to gain places, when a pit stop on lap 21 ended in his rear left tyre coming loose.