Stories Published on December 2nd, 2012 | by Seán Ward
0
What happened to the Skyfall DB5?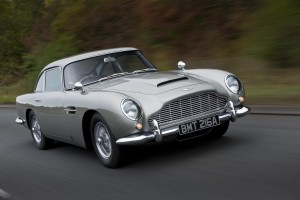 For those who saw Skyfall, you might have noticed [spoiler] that the DB5 came to a rather sticky end; unlike Goldfinger, where a DB5 crashed into a wall and survived more or less unharmed, the Skyfall DB5 was totally and utterly destroyed. Car fans across the world sunk into a state of mourning.
But was it really destroyed? Truth be told, the car totalled in 'that' scene was a replica, built and taken to the set simply to be destroyed, but the true Skyfall car has lived a somewhat happier life.
Starting out in life as a rather ordinary DB5 in Aston Martin's original production run between 1963 and 1965, the car was finished with a very un-James Bond green exterior and a beige interior, and selected by Skyfall producers in 2009 for a full restoration.
It was then taken by the Aston Martin Works heritage team to Newport Pagnell, the founding home of Aston Martin. Mechanics spent just under a month prepping the car for filming – the classic Silver Birch paintwork was applied, as well as a keyline on the roof for the ejector seat, and a new black interior was fitted, before being promptly 'distressed' to show almost fifty years of use in the careful hands of Bond.
But what will happen to this famous machine in the years to come? Aston Martin have said that, once its promotional calendar has quietened down, it will be fully restored for the second time, but after that, whether it goes on sale or is put on display, is entirely up to Aston Martin.
If it's sold in the next few years, expect the price to be somewhere north of £500,000 – any longer than that, and rich fans of the car will probably need to fork out more than £1,000,000.
[portfolio_slideshow]