Stories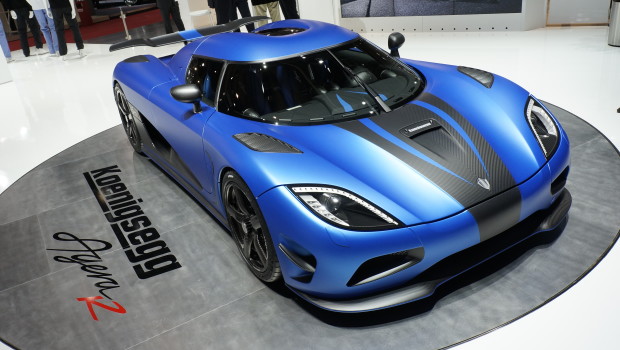 Published on February 10th, 2014 | by Seán Ward
0
What Next for Koenigsegg?
Koenigsegg has continually evolved over the last 15 years; from a small company started by a 22-year-old Christian von Koenigsegg in 1994, to the futuristic manufacturer of exclusive supercars today, the company has grown and grown, whilst all the time pusing the boundaries of whats possible, both financially and physically.
Koenigsegg showed its first first prototype at the Paris Motor Show in 2003. With an attractive and incredibly aerodynamic design, the brand started to gain traction amongst the world's super-wealthy, and from there the Koenigsegg 'car' has evolved from the CC8S (a 646 bhp, 4.7 litre V8 supercar) to the most recent Agera R (a twin-turbo V8 hypercar with 1,124 bhp). (Christian von Koenigsegg maintains "evolution is better than revolution".)
But where does Koenigsegg go in the future? With the clientele the way it is, provided Christian von Koenigsegg can keep delivering innovative, beautiful, efficient, and monstrously fast machines, new product development can continue and the cars will keep rolling out of Ängelholm.
But in terms of actual performance, where will, or where should, Koenigsegg go? At the moment, Koenigsegg is working on its latest model, the Agera S. Essentially, the 'S' is the same car as the Agera 'R', but it has been designed to work on a lower-octane fuel (particularly important in emerging economies like those of China).
From there, though, some are asking whether hybrid technology is part of Christian's business plan?
As two tweets from Evo Magazine's founder Harry Metcalfe suggested last month, Koenigsegg is developing a hybrid model, but in keeping with the company's drive to produce innovative and new technologies, this hybrid could be built with no batteries at all:
""@AutoNewsEurope: PSA plans battery-free hybrid bit.ly/SA8ZGt #" Air hybrid makes current tech redundant. Next Koenigsegg has it too"
""@AidenT_RD: @harrym_evo @AutoNewsEurope Fascinating technology! Hybrid without the weight gain!" Full Koenigsegg story in next issue of evo"
Should a company like Koenigsegg become a 'hybrid' company? While some might turn their noses up at the idea, hybrid technology is increasingly becoming a more and more important part of daily life, particularly at the very top end of the car market (look no further than the McLaren P1, Porsche 918 Spyder, and Ferrari LaFerrari).
In the more immediate future, though, it seems Koenigsegg is sticking to a fairly familiar formula: reduce weight, add power.
Autocar published a story last week that showed the 'Koenigsegg One:1', an evolution of the Agera so called because its  power to weight ratio is 1 bhp:1kg.
Weight has been reduced by 95kg to 1,340kg, and the power increased by an altogether ridiculous 216 bhp to 1,340 bhp. Through the rear wheels.
The current Agera R has a 'predicted' top speed of 273 mph (Koenigsegg has never had the opportunity to do a top-speed run), so what could the One:1 manage given enough room?
Exciting, too, is that the rear wing will be able to produce 600kg of downforce, the same as the rear wing of the McLaren P1.
In the long run, it's difficult to predict whether hybrid technology will become a big part of Koenigsegg's hypercar line up, but for the time being its clear Christian still knows what cars we like to put in posters on bedroom walls.