Stories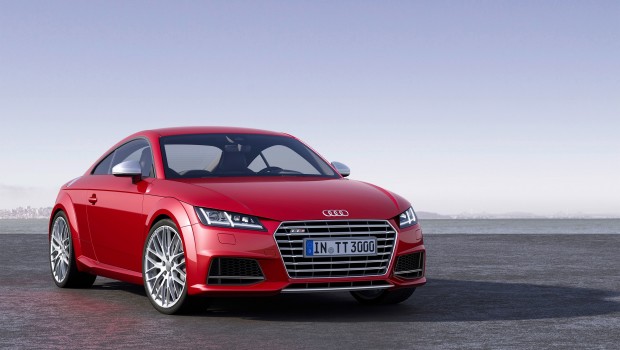 Published on March 4th, 2014 | by Seán Ward
0
What's Changed on the 2014 Audi TT?
At first glance the Audi TT hasn't changed, but dismissing the new TT as a poor update and a face lift would be a mistake.
Firstly, the new TT S gets from 0-60 mph in 4.7 seconds. That, whether you like the new looks or not, is nearly R8 fast.
How have they managed that? Well, an updated 2 litre, four-cylinder petrol engine puts out 310 bhp and 280 lb/ft. Not bad.
Audi have also fitted a new exhaust to the TT S, which Audi says creates a "richer sound".
Two other engines are available from launch (deliveries will start at the end of this year), both of which are 2 litre, four cylinders, but one is a standard petrol and the other a turbocharged diesel.
The petrol has 230 bhp and 272 lb/ft, and manages 0-60 mph in 6 seconds with the six-speed manual and front-wheel drive. Option in the six-speed S Tronic gearbox and Quattro all-wheel drive and the 0-60 mph time drops to 5.3 seconds. Perhaps more importantly for any sportscar of the future, the petrol will manage 41 mpg and 159 g/km.
On the diesel front, performance is slightly less brisk and power slightly lower than either of the petrols, with a 0-60 mph time of 7.2 seconds, 180 bhp, and 280 lb/ft, but much more economical, able to achieve 67 mpg and 110 g/km.
Dynamically, it's important to note the traction control can be turned off completely, the Magnetic Ride Control (an option on the standard diesel and petrol, but standard on the 'S') can be switched between Comfort, Auto and Dynamic, and the Quattro all-wheel drive system can be flicked between Auto and Dynamic. Dynamic, you'll be glad to hear, sends more of the power to the rear wheels more of the time and more quickly than it normally would.
Chassis wise, while the chassis is still steel and the body still aluminium, new construction techniques and modified materials mean the new TT weighs 50kg less than the outgoing model, standing with a dry weight at 1,230kg.
Lastly, the interior: Audi has said it has placed "the right amount of the right material in the right place for optimal functions", employing a "less is more" policy. As a result, new sports seats save 5kg and the instrument cluster is now entirely electronic. Also, almost all of the car's important functions can be changed from the steering wheel. Whether that's good or bad is up to you.
The TT isn't an entirely new car, something that many were hoping for – it's not even that far away in design. But it should make the TT a better drivers car, and that can only be a good thing.