Le Mans 24 2013 Published on June 20th, 2013 | by Seán Ward
0
What's On When at Le Mans 2013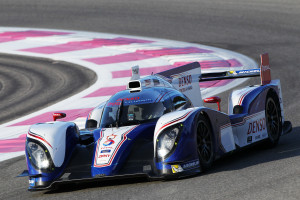 Le Mans kicked off on the 7th June when the track was checked, the pits prepared and the cars scrutinised. Since then there have been test days, more scrutineering checks, autograph sessions and the 2012 winners have had their hand prints immortalised in concrete (the Le Mans Hollywood Walk of Fame) – but what else is there to be seen before the race kicks off on Saturday?
Well today we've already seen the Le Mans Legends Qualifying in which cars ranging from the 1936 Aston Martin Speed 'Red Dragon' to the 1955 Jaguar D-Type competed for the fastest time and therefore their grid position for the Le Mans Legends 45 minute race, due to be held at 10:05am on the morning of the Le Mans 24 Hour race.
Also today is the Ferrari Challenge practice qualifying session, with 47 Ferrari 458 Challenge cars competing for grid position. Like the Le Mans Legends race, the Ferrari Challenge race is held on the morning of the full Le Mans 24 Hours, with the race starting at 11:15am.
Then at 19:00 is a Practice Qualifying session for the actual Le Mans 24 Hour cars, stopping at 21:00 to give some time for passenger rides in an LMP2 car, before another Practice Qualifying Session, the last qualifying session overall: this is for grid position.
Saturday provides some down time before the action kicks off on Sunday: at 9am, for 45 minutes, is the last practice session for all cars. Just 20 minutes after than finishes, the Le Mans Legends race begins, followed by Ferrari Challenge, and then at 15:00 the 2013 Le Mans 24 Hour race begins!
Who will win? The odds of an Audi walkover like last year are looking smaller and smaller. Not only did Toyota give Audi a good run for their money last year, but the TS030 has had another year's development, whereas last year it was still very much a very new package.
And of course it's party time everywhere else around Le Mans, with concerts, food stalls, funfair rides and more opportunities to get close to the cars and drivers.
The race ends at 15:00 on Sunday 23rd June, with grandstand tickets still available from €55.