Stories Published on April 24th, 2012 | by Seán Ward
1
Worst Ferrari Replica Ever?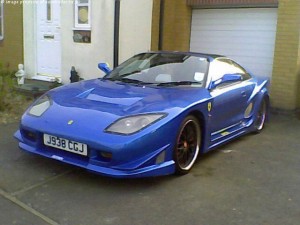 Is this the worst Ferrari replica in history? We think so.
Currently listed on Autotrader for £5,999, it's named '1991 Ferrari 360 Spider F1 2dr M Convertible 3.6'.
Let's pick this apart, shall we? Because it's based on a Toyota MR2 GT 2.0 litre from 1991, they've said that it was built in that year, but the Ferrari 360 didn't go into production until 1999.
Next, as you might have noticed this car isn't a convertible, but because the MR2 was a convertible the owner has to call it a convertible by law.
The 'F1' stands for Ferrari's Formula 1 style paddle-shift gearbox, which is odd when the 'M' afterwards quite obviously means manual.
Then there are the looks – It's hideous and bears no resemblance to the 360. I'd go so far as to say it would have looked better if they'd designed the body panels on en 'Etch-a-Sketch'.
The wheels are ghastly, the interior very MR2 like with a few terrible 'sporty' plastic inserts, at the back is an engine cover that looks like something on an F40 (created with the artistic skill of a blind cow), and the rear Ferrari badge is off centre and looks like it's been written with a crayon. On the end of a stick. From a speeding plane.
If you know of any more terrible Ferrari replicas, or bad replicas of other cars, comment below or get in touch via our 'Contact Us' page.
[portfolio_slideshow]